What is Sargassum?
The seaweed (Sargassum) is a type of open ocean brown algae. There are two species commonly found in the Caribbean, s. natans and s. fluitans. It is only found in the Atlantic Ocean and provides refuge for migratory species. It is free-floating seaweed and will not attach to the ocean floor; its movements depend solely on ocean currents. It is also an essential habitat for some species of fish and invertebrates and provides shelter and food to sea turtles and commercially important fish like tuna. Sargassum can also be extremely important to particular endangered and migratory species like sea turtles and whales. Additionally, Sargassum plays a role in beach nourishment and is an important element in shoreline stability, however in excessive amounts it may result in beach erosion. For further reading take a look at the "Sargassum- A Resource Guide for the Caribbean"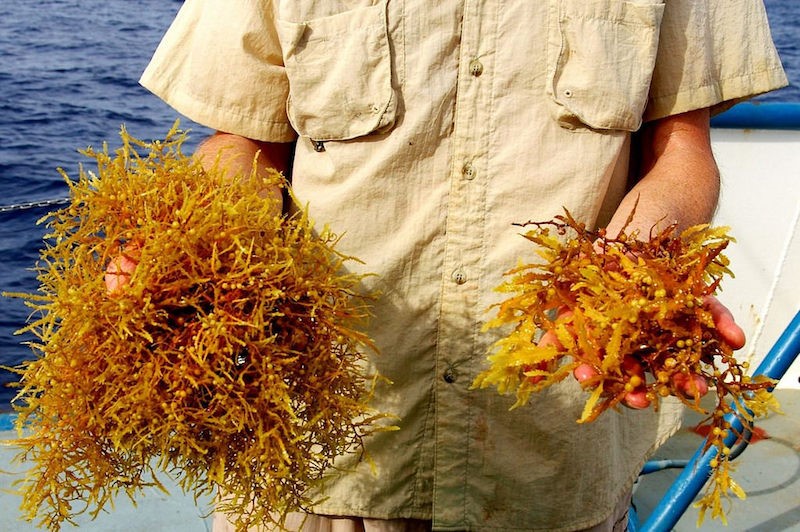 Two types of Sargassum species
The influx of the seaweed is believed to be related to increased accumulation in the Atlantic Ocean where nutrients are available and temperatures are high. The seaweed consolidates into large mats and is transported by ocean currents towards the Caribbean, washing up on beaches throughout the region.
As it collects and decomposes on the seashore there will be a smell, and it will also attract insects. Leaving the Sargassum on the beach has proven to be the simplest and lowest cost solution, however in instances where the seaweed is removed.
General Guideline for the removal from the beaches and shoreline
The National Environment and Planning Agency (NEPA) wishes to advise hotel/resort owners, beach operators/fishing groups that permission is granted for the removal of the accumulated Sargassum on the beaches of their respective properties. Sargassum Management Guide
Removal of accumulated Sargassum must be done in accordance with the following best practice guidelines, as follows:
Removal
Removal of Sargassum is carried out manually through the use of non-intrusive methods (no heavy equipment and machinery) such as hand raking or beach raking equipment with a perforated conveyor belt; and
The return of accumulated sand to the beach after raking.
Disposal of Sargassum
Stockpiling at a designated location;
Turn the material occasionally to encourage the drying of the material and the ultimate removal of sand;
Disposal of the organic material at an appropriate off site location; and
Burial on the beach where practical.